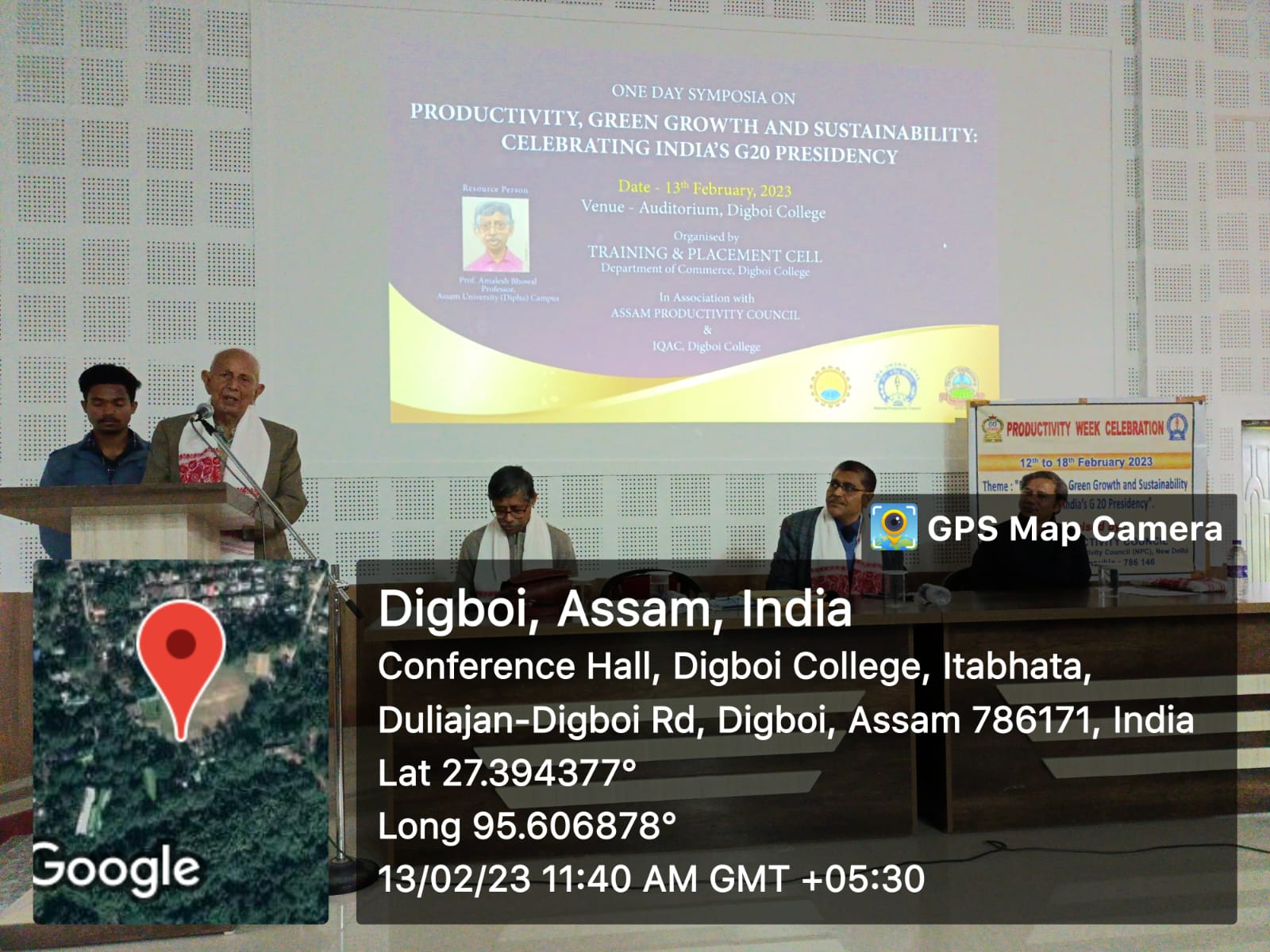 ONE-DAY SYMPOSIA ON PRODUCTIVITY, GREEN GROWTH AND SUSTAINABILITY: CELEBRATING INDIA'S G20 PRESIDENCY
13th February 2023:  On the occasion of National Productivity Week ( February 12 to 18), the Department of Commerce, Digboi College has taken an initiative to observe this week on 13th of February,2023 to enhance the level of productiveness among the students. This initiative has been undertaken by the Training and Placement Cell, Department of Commerce, in association with IQAC, Digboi College, and the Assam Productivity Council.
This, one day symposia was held in the conference hall of the college, with a gathering of about 90 students. The special guest invited were Prof. Dr. Amalesh Bhowal, Professor, DoC, Assam University (Diphu) Campus as the resource person; B.P Bakshi, Chairman, Assam Productivity Council; and Dr. Jacob Konwar, Asst. Prof., Dept. Of Commerce, D.H.S.K Commerce College. The occasion was initiated with a felicitation ceremony to all the respective dignitaries on the Dias with a Fulam Gamusa and with a Borgeet performed by the students of the commerce department. The Head of the Institution ,Digboi College, Dr Dip Saikia addressed the gathering with his welcoming speech, followed by the Head, Department of Commerce, Dr Deborshee Gogoi . The Chairman, Assam Productivity Council, B.P Bakshi began his talk with the significance of productivity by permeating the importance of innovation to it. Then the resource person, Professor Dr. Amalesh Bhowal took up the event by enlightening the gathering with the knowledge on the productivity; the concept on green growth and sustainability. The last spokesperson for the event was Dr. Jacob Konwar who tried to conclude the occasion by prioritising the composition of the preceding speakers.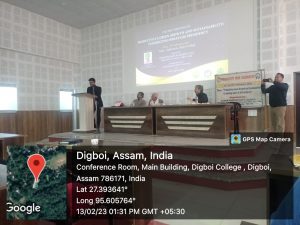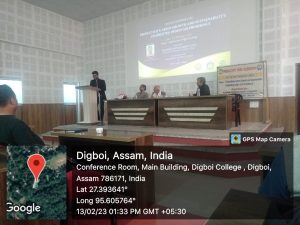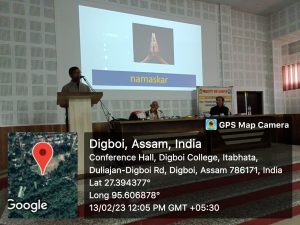 Towards the end, , Dr. Samrat Bharadwaj , Assistant Professor, Department of Commerce, Digboi College, gave the vote of thanks to the respective dignitaries for inspiring the conference hall and the event was winded up with a group snapshot. Thus, the event was of great success.
জয়তু ডিগবৈ মহাবিদ্যালয়, জয় আই অসম, জয় হিন্দ |